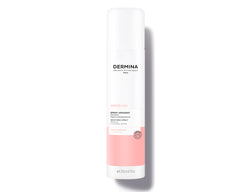 Sensitive skin / Face

Refreshes, soothes and hydrates

Light and refreshing mist

Aerosol – 250ml
DERMINA Soothing Spray immediately refreshes the skin any time during the day. More than freshness, it provides an immediate feeling of soothing to the skin with Centella, Cocoa and green Tea extracts. It also moisturizes thanks to the Allantoin which reduces skin dryness. The skin is left refreshed, soothed and hydrated.
 

Mist evenly onto the face any time during the day. Do not need to pat dry after.
Centella extract: Soothing, regenerating, and repairing
Cocoa extract: Softening, antioxidant, and anti-free radicals
Green tea extract: Antioxidant and anti-free radicals
Allantoin: Soothing, moisturizing and anti-irritants

 
FRAGRANCE FREE

AQUA (WATER), CENTELLA ASIATICA EXTRACT, THEOBROMA CACAO (COCOA) EXTRACT, CAMELLIA SINENSIS LEAF EXTRACT, ALLANTOIN, GLYCERIN, DISODIUM EDTA, SODIUM BENZOATE, CHLORPHENESIN, POTASSIUM SORBATE, CITRIC ACID, TROMETHAMINE, NITROGEN