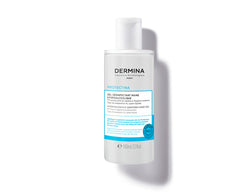 HYDROALCOHOLIC SANITISING HAND GEL - 100ML
PROTECTINA Hydroalcoholic Sanitising Hand Gel is a biocidal TP1* product based on Ethanol for hygienic hand disinfection by friction. Without rinsing, its triple action formula guarantees rapid action against viruses, bacteria and fungi. 
Virucide EN14476 on H1N1 
Bactericide EN1276 
Fongicide EN1650  
*TP1: biocidal product intended for human hygiene. Water-soluble gel.
Apply the necessary amount to rub the hands and possibly the wrists for about one minute for optimum effectiveness. Do not rinse.


DANGER: Highly flammable liquids and vapours. Causes severe eye irritation. In case of consultation with a doctor, keep the container or label available. Keep out of reach of children. Keep away from heat, hot surfaces, sparks, open flames and other sources of ignition. Do not smoke. Do not eat, drink or smoke while handling this product. Avoid release to the environment. Do not use in children under 6 years of age. Do not apply to injured skin.

IF IN EYES: Rinse cautiously with water for several minutes.

Dispose of empty packaging or unused product in accordance with national waste disposal regulations. In the latter case, do not recycle the packaging.
| | |
| --- | --- |
| Bactericidal, fungicidal and virucidal Ethyl Alcohol. |   |
NO ADDED FRAGRANCE

COMPOSITION : ALCOOL ETHYLIQUE (CAS 64-17-5) : 699.30G/KG.